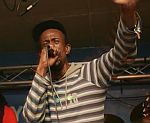 Reggae Veteran MC Ishu was born Clarence Earl Bradshaw in Kingston, Jamaica in the 1960's. He spent much of his youth singing in the church and school choir, before fully embracing the flourishing Reggae scene that was forming around him. Ishu spent much of his youth in the Payne Avenue and Waterhouse areas of Kingston and grew up with, what were to become Reggae Icons such as Tenor Saw, Nitty Gritty, Echo Minott and Ranking Joe. During this time he recorded tracks at the Penthouse Studio with artists such as Sugar Minott, Super Black and Cleevey (Sly and Cleevey).
Since moving to London in the '80s to record with seminal punk band The Slits, MC Ishu has been embraced by the UK Roots scene, establishing himself as one of the most saught after MCs around. Throughout much of the 90s he was the resident MC on Menasseh Sound System, before teaming up with the UK's biggest Reggae DJ, David Rodigan when he became resident MC for over 3 years at the legendary night 'Rodigan's Reggae' at Subteranea.
For the last Decade MC Ishu, has consistently been on the UK Roots, Reggae and Drum & Bass circuit playing alongside many of the top UK Sound Systems including The Iration Steppas, Reggae Roast and Solution Sound System. He recently recorded the stand out track on the Mungo's Hi Fi CD 'Sound System Champion', which featured the likes of Top Cat, Tippa Irie, Kenny Knotts and Ranking Joe.

Today Ishu is one of the most versatile and respected MCs in the UK Roots Reggae scene and one of Reggae Roast's top residents, performing alongside DJ's Moodie and Exel, at clubs and Festivals nationwide.

He's also a member of UK live dance act Step 13 – who have stormed UK venues from East London's Cargo to Bristol's Clockwork, and performed at festivals such as Glastonbury, and Secret Garden.